Contacting Spirits Through Activity
Typically people who think they can contact the spirit world do it by means of spirit mediumship, dreams, or apparitions.  These are basically mental phenomena.  What about by means of physical activity?
Well, of course, there is physical mediumship, in which spirits are invited into séances, for example, to move objects or to indicate their presence in some other physical manner.  These physical phenomena all involve (allegedly) actions on the part of the spirits.  What about actions by the living as a way to connect to the spirits?
In our previous research on spirit mediumship, Guided by Spirit,
http://www.amazon.com/Guided-Spirit-Journey-into-Medium/dp/0595268056/ref=sr_1_1?s=books&ie=UTF8&qid=1354133434&sr=1-1&keywords=guided+by+spirit%2C+Emmons
we encountered people who said that deceased relatives would help them out in their daily activities.  For example, one medium said that she would mentally contact her husband for help in household chores, like putting up a window shade, and he would guide her.  On a trivial scale this is a bit like people who claim to be inspired by spirits (or muses) when composing music or doing artwork.
We could at least imagine that spirits like to join in activities being performed by living humans who still have a body.  This was the impression Penelope got when she seemed to be channeling Joshua Chamberlain (Guided by Spirit, pp. 74-76) on Little Round Top in Gettysburg.  When he was still alive he used to revisit the battlefield for many years after the Civil War, and perhaps now he needs the help of living eyes to continue this activity.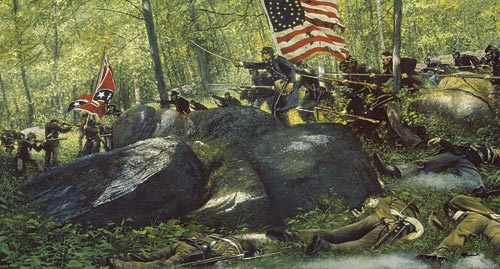 This is all prolog to telling about my practice of "spiritual solitaire," which you could describe as a mental fantasy on my part, imagining that I am playing solitaire with my ancestors (actually members of my family, my godmother, and two former teachers).  At the very least it is similar to a child's imaginative play, but just possibly it is a means by which these spirits can participate in my life.
For those who think this is just silly, that's fine, but nobody is getting hurt by this, and I find it fun.  I play what is called Klondike in the manner that it supposedly used to be played in Las Vegas. You paid $52 (one dollar per card), and you got back $5 for each card you managed to lay out front in suit piles beginning with the aces (you can get the rules for Klondike online:
http://boardgames.about.com/od/solitaire/a/klondike.htm ).  Add one more rule to those on that site: if you have a card that could either be put out on top of one of the suit piles or played on one of the seven columns, you have to do the former.  This was a Las Vegas rule to cut down your option of sacrificing a "money" card in order to liberate trapped cards in the facedown piles (columns).
I play with a real physical deck because I like reality more than virtual games, and because it's good for your small motor skills and brain functions to manipulate physical objects.  If you play online, the rules may be more liberal, and they won't match the challenge you would have gotten in Las Vegas.  If you can actually win pretend money doing it my way, you know you would have beaten the odds at Las Vegas.  In other words, if you do really well, or improve substantially over time, you might be able to attribute your success to paranormal help from the spirit world (or some other anomalous cause).
I won't go into all the details of how I keep records of my play or of how I modify my style of play depending on which spirit I'm pretending is helping me.  However, I shuffle at least eleven times, making the card order virtually random or unpredictable.  Then I set an intention, for example, to have as many aces as possible exposed on the deal, or to have as many possible immediate plays on the deal, varying the strategy by the spirit assigned to that hand.  I have noticed some fascinating synchronicities, such as very frequently having all 8 initially exposed cards be of the same color (black or red).  There are also very streaky results (big winning and losing streaks) and decline effects (very good results followed by very bad results on one sheet of records of play).  Such things are common in ESP lab studies.
How could these synchronicities (coincidences) be explained, if they are paranormal or spiritual?  Perhaps spirits (or my subconscious) can effect tiny changes in the shuffle to bring about certain patterns that I am unable to produce consciously.  Or maybe there's nothing to it, and I'm just imagining things.  It is very difficult to establish a probability frame, but one thing is certain: if you are ahead in imaginary money over a long term, you are really beating chance.
You can develop your own fantasy world in the play of this game.  The whole idea is to have playful fun and to connect with your spirit friends and relatives, at least in your imagination, keeping their memory alive.
Charles F. Emmons is a sociologist at Gettysburg College and coauthor with Penelope Emmons of Guided by Spirit" and Science and Spirit.